Smartphone gaming has evolved into a form of entertainment of its own with constant upgrades to graphics, motion control, and immersive gameplay. But what if there was a way to combine the ease of a regular smartphone, with the extended gaming experience offered by hundreds of developers around.
Since The app stores are extremely full when it comes to games. So we are here with the list of some of the best Gaming Apps in 2021. That would make you stick to your sofa during the pandemic's 3rd wave and kill some free time on your phone.
Best Gaming Apps 2021:
Our list of games consists of some of the best action, arcade, simulation, and strategy games. These games are available on both Google Play Store and Apple's iTunes stores. So you can download it on any device.
All the games we pick here are brand new ones, Mostly released in 2021.
1- Clash Quest:
The developer of Clash of Clans & Clash Royale the famous Finnish SuperCell has decided to bring this new title for their fans.
Welcome to the Grand new expedition on an uncharted Land of Clash Quest. Together you can conquer new challenges and defeat rivals and arm ourselves with mighty items and adventure ourselves into a whole new level of a brand new Supercell game.
Although this Clash Quest game is still in soft launch phase, and isn't available globally, but we have came up with the Clash Quest Apk file for your Android devices.
2- Family Farm Adventure:
A new Simulation game from Century Developers allows you to explore your virtual farm. Just like the super hit Farmville games, this new title also lets you get into a whole new tropical Island and get all the puzzles solved to get the most awaited surprises for your farm.
You can decorate and celebrate all types of festivals at the time of harvesting crops, raising animals or preparing food.
3- Brawl stars
Brawl Stars is an isometric multiplayer arcade shooter made by Supercell. You will have to fight in 3v3 teams in real-time, taking control of one of the many characters of both modern and fantasy worlds. They all have unique attacks, superpowers, and customizable appearance. Customization consists mainly of skin sets, which, like heroes, are purchased for real money or for in-game currency obtained in battles.
Brawl Stars features several different game modes. In the first mode, you need to collect the largest number of stars, destroying opponents. In the second, you have to collect crystals, and the third invites players to break into the safe. There is also an analog of Battle Royale mode, and sometimes the developers hold the events with time-limited modes, including PVE events.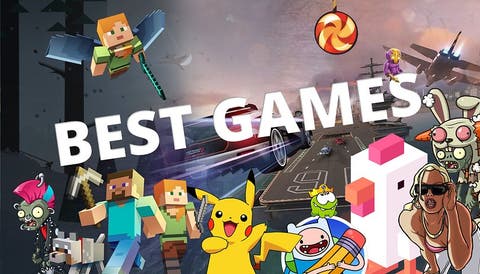 4- Dead by Daylight Mobile
Dead by Daylight Mobile is the mobile adaptation of the popular PC and console games. The gameplay is the same as the "older" version, but the game has some differences. For example, the graphics became noticeably worse, the distribution model changed to Free-to-Play, and there is a lack of content from the original game. But in general, this does not prevent you from enjoying it.
Dead by Daylight Mobile is an asymmetric action horror game in which a team of survivors tries to escape from a maniac who is also controlled by a real player. To achieve this goal, survivors need to repair five generators to open the gate. There are various characters to choose from, each with unique characteristics. You can also use various items unlocked for leveling your character. They help make it easier to escape or find a victim, depending on the side you on.
5- Diablo: Immortal
Diablo: Immortal is a mobile collaboration between Blizzard and NetEase to bridge the knowledge gap for Diablo fans and provide them with new gaming experience. This game will answer questions about Malthael and his escape from heaven, and also tell what Deckard Cain and Tyrael were up to before the events of the third game in the series.
Of the possibilities, six character classes are available in the game as in the D3: Barbarian, Monk, Wizard, Crusader, Demon Hunter, Necromancer, as well as a non-target combat system, nice graphics and soundtrack, multiplayer game functions, dungeons, new enemies, references to the second game in the series and familiar characters.
After a bad reception at Blizzcon 2018, the developers began to urgently redo the project, and the next year they showed an updated version. Despite all the criticism, we still hope to have a good mobile game in the Diablo universe.
6- The Seven Deadly Sins: Grand Cross
The Seven Deadly Sins: Grand Cross is a mobile RPG with elements of collectible card games based on the Seven Deadly Sins anime universe. In the game, fans can play the role of famous anime characters: Meliodas, Diana, Ban, King, and others.
Battles take place in turn-based mode, using decks of cards that users must collect as they level up and progress the game.
Grand Cross boasts beautiful graphics, a deep combat system, and an interesting story. For the latter, of course, we should thank the original source, but the side quests also expand the plot quite well. Also, the developers regularly hold events and release updates, which means the game should be relevant in 2021 as well.