Due to the development and technology of the Internet, traditional television is gradually eliminated. A streaming technology called IPTV allows us to visit our favorite programs and movies, and IPTV has quickly received the favor of consumers with easy-to-use characteristics and excellent user experience.
XtrixTV IPTV is the best choice for sports fans. In this article, I will have a complete review of this IPTV service.
IPTV Market Trends
The following graph shows the increase in IPTV market size between 2021 and 2026: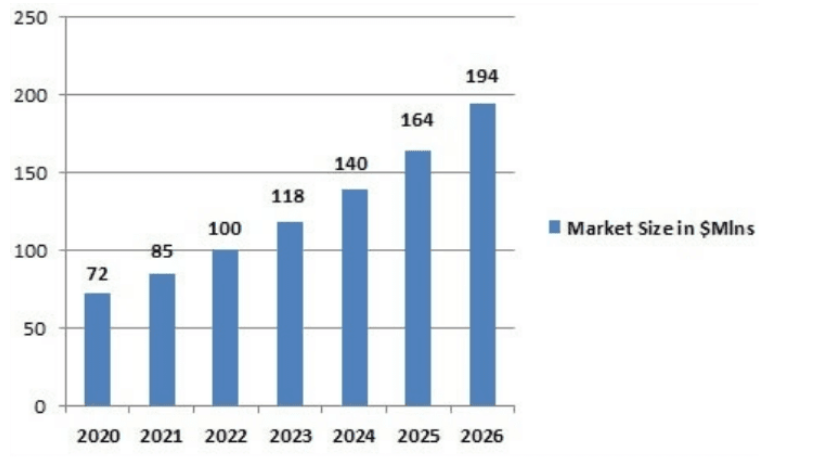 IPTV Review
There are many brands of IPTV service, but how to choose the right network TV service is the problem we are considering. Most people may face some problems, an IPTV service review is written well, but you buy their subscription, still face buffering problems, channels do not work, and so on.  
So when I heard that I could watch TV online, I started reading these articles and even subscribing to the services listed above, and I started experimenting.  I've tried a lot of services so far, and now I have some experience with them.  
The reason for writing this article is my own personal attempt to provide you with the best IPTV service provider to avoid being cheated.  
I have tried to use the IPTV here many times, and finally, choose the IPTV service I am most satisfied with at present – Xtrix TV IPTV
Next, I will make a deep and comprehensive review of this IPTV service.
Xtrix TV IPTV Service
I have been using their service for the last 6 months and I have no problem with what I did when I first subscribed to Xtrix TV but a quick email to their support team collated within an hour. I believe there is a support team working around the clock 24/7, such a service is great.  
Xtrix TV IPTV Introduction
As far as I know, Xtrix TV has been the most reliable IPTV service since 2015, with over 1,000 live channels, over 3,000 latest movies, shows, and live world sports, The stream is very smooth and there are no freezing and buffering channels.   
Most stable app server and engineering team over 5 years.

You Get Over 1000 Ordinary & Premium Channels Instantly with HD quality

You Get Over 3000 Movies & TV Shows (VOD).

Simple to use EPG (Electronic Program Guide).

Plus package with 7 days catch up and PVR

Solid IPTV Service, Without Buffering and Freezing (Stable Internet Required).

You Get 100% Satisfaction Guarantee.

You Get 24/7 Customer Service.

3 Days free trial before order.

Code sent to you instantly once ordered.

Stand alone Android application
They provide more than 160 IPTV UK channels, and there are over 100 UK channels offering Catch Up.  With their UK channel, you can watch sports, social media, e-commerce, travel sites, cooking, entertainment… 
For me, I watch a lot of sports live online in the UK, it's really great, it's not too slow, it's really smooth, I can't believe Xtrix TV can do so well, if you also like watching sports, like some matches in the English Premier League and the English Championship,  Trust me, Xtrix TV is a great choice.
Also Read: Best Sports IPTV
IPTV Subscription Plan
First, I got a three-day free trial of Xtrix TV because they said they offer over 1,000 live channels from different countries, and with the mindset of trying, I was just checking the channels.  I ordered it from them and they immediately sent an email with a subscription code so it was easy to log on to the device. (How to get a free trial and subscription on Xtrix TV IPTV)
Before I got my free trial, their staff showed me how to get my subscription, how to use my subscription, how to download and activate the device, the service was really great
When I logged on to the account, I was deeply moved because they do have over 1,000 live channels from different countries, and after I confirmed the list of channels, I ordered a plan to see how the service works after continuous use.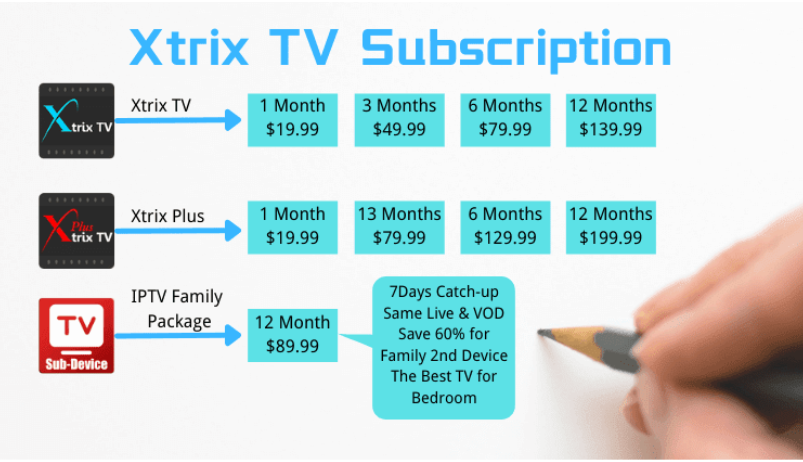 I read that they have three types of subscriptions: 
Xtrix TV: Blue icon, Standard IPTV,
Xtrix TV Plus: Red icon, Premium IPTV, 
IPTV Family Package: Sub-Device
I decided to have a three-month subscription plan,to my surprise, their service is good every day because I don't have any problems. 
Access to IPTV subscriptions here
Service Features
I want to say that the features of Xtrix TV are really nice, and I've got some pretty useful features:  
Android-based IPTV service, fast & easy setup

One of the most stable IPTV services can be used for sports, movies, series, and news.  

1000+ live channels, 3000+ movies 

3Days free trial available

Grid EPG,  Classic EPG 

7 Days Catch up (playback)

DIY recording (Cloud PVR, saved on the server)

For 2nd/3rd/4th devices, suggest using the family package and save 60% OFF
3-days free IPTV trial available
I first tried the 3 days trial of Xtrix TV IPTV because I thought it sounded too good to be true but I was very surprised how great and how stable the service is since I have used their service the system has never been down always is super quick and always looks and sounds really great so I would rate the quality and sound of Xtrix TV 10 out of 10.
I think the three-day free trial is very practical if you want a free trial, three types of Xtrix TV, Xtrix TV Plus, and Family Package, and each category has a link to a "three-day trial" under its name.  If you want, click on the link to choose a free trial.  Then click the "ADD TO CART" button.  
Choosing a IPTV free trial or subscription is basically the same.  If you choose to IPTV subscribe, you will need to pay by credit/debit card.  No credit card is required to choose the free IPTV trial.  
EPG (TV Guide)
In the process of using it, I found that they have three types of EPG, Normal EPG, Classic EPG, and Grid EPG. They provide electronic program guides for so many channels. And there are more EPG details. This really makes me happy because many vendors are there asking for money to get an EPG.
I prefer to use the normal mode EPG. In general, depending on your habits, you can adjust the channel menu for your convenience, watch your favorite shows
7 Days Catch up (Playback)
I found Xtrix TV to be a really great service, as I didn't experience any buffering, freezing, or other issues during that time.  Also, they offer a 7-day catch-up function, which makes it even better than the other variety.  The Xtrix TV catch-up feature will help you a lot
7 Day Catch Up – Lots of channels have the ability to be able to watch any show aired in the last 7 days (I use this so I don't have to get up at 2 am to watch a live event that may be in UK or USA)

Many of their channels are in true TV providing superb picture quality and most channels have 7day catch-up so you'll never have to miss your favorite program again!!

You've just realized that the big finale of the TV series you've been watching for the last 2 weeks, you missed it! …or that soap, at last, had a decent interesting storyline enough to hold your attention to want to know who did it, and then, aaargh you were at the shops and forgot to record it! Don't panic, IPTV Catchup is a great service available to you that some internet TV providers offer that gives you the chance to go back in time to Live programs that get automatically recorded for you.

With 7 days of catching up, you do not need to get up at midnight for a sport anymore.
Tips: The way to tell if a channel has Catch-UP is by looking at the EPG (TV guide) to see what channels show the video recorder image or icon.
Cloud PVR (DIY Recording)
I've already used the Cloud PVR feature, which is great because it gives me more storage space to download some of my favorite videos, and I can open it whenever I want, Has the following uses 
You can record multi-channel simultaneously,and you can watch sport live channels and record UK, GR, DE channels at the same time.

you can set a record timer for a future event, the server will record on time no matter whether STB is power on or power off when time is up.

you can record past events as well. (catch-up events)

The Capacity of each user's Record time is 40Hours.
But there are some problems, I can only record the entire EPG event and cannot decide when to start/stop. No matter when I start to record, the server will record the current event completely. 
For example, if the current event is from 9:00-10:00. I start to record at 9:30, the server will still record 9:00-10:00.
I've had a much better experience, and that's acceptable
Family Package (Multi-Room Plan)
Here I would like to update you that the Family Package is just released. I think the family package is a good deal. It can help you save 60% for the second device subscription.
When I have Xtrix TV Plus IPTV version subscription code, I can buy Sub-Device code(s) on the 2nd/3rd/4th Devices for my family! So that I can use it in my bedroom. Also I can use it on my Samsung Cell Phone to watch when free. 
With the family package, you can use their IPTV Plus version as Multi-Room IPTV/Multi-Devices IPTV, Saving money and Enjoying more Family Fun!
If you really want to subscribe to the family package, you'll have to read the Xtrix TV IPTV FAQ. You'll also need to learn how to use the family package to connect to multiple devices. Don't worry, you can find detailed tutorials on their website.
Also Read: Best IPTV Players
Trustpilot reviews Xtrix TV IPTV
They get good comments on Trustpilot: 4.4 / 5 stars
Personal Review
I really do like the VOD section where not only are there old classic movies but movies that are still at the cinema in perfect quality not like other providers where the quality is so bad it makes the movie impossible to watch.
I do like the electronic program guide to Xtrix as it's very easy to understand and you can even select the program and see what the description is about the program.
I do prefer to like the music feature on Xtrix TV but I would say it is MTV radio but it's not actually MTV radio is stingray music but it's still great 5o listen to as there are no adverts in between the songs.
I did have my Indian friend staying with me and he did watch the UK programs that are on Xtrix TV and he did say they were very good quality and sound.
I can only highly recommend Xtrix TV as I am very happy with their service and the price is excellent.
I have recommended it to many of my friends around the world and they are all using Xtrix TV as it's the most stable and reliable IPTV service around.
Conclusion
All in all, I highly recommend this service.  The only possible downside might be Not all premium channels included, but as I mentioned at the beginning, it's always a compromise game.  So, if you want to have a perfect viewing experience, and want to see more content that you can't shake, then Xtrix TV IPTV is the service for you.