Have you seen that flashy looking "How to make $1,000/day on Uniswap Liquidity Bot"? Don't Fall for it. It's a mega scam being run on Social Media lately and dozens of people have fallen for it.
The YouTube scammer named John running a successful Uniswap Liquidity Exploit on his YouTube channel "Web3 Solidity Tutorials" with 26.7 thousand Subscribers is running a mega Crypto scam and roaming free.
[*
Updated 29/7/2022:
He is back with a new Channel, "
Web3Acadamy
". [
Scam Video Link
New]
What is the Front Running Crypto Uniswap Liquidity Bot Scam?
This is a brand new way of exploiting people by using some rich code hosted by GitHub.io. The scammer in his Scam video, which was uploaded on the 12th of June 2022 with the lucrative title, "How to make $1000/DAY on UniSwap?" already has over 108,078 views.
In his video, he instructs his viewers on how to use GitHub.io hosted Remix IDE v0.21.4 running a Solidity Compiler [File: Bot.Sol] by adding his own custom code to create a new contract.
He already has 8,300 likes on his video. What about Dislikes? Well, YouTube doesn't want us to know about the number of dislikes. But opening his video on "YouTube Vanced" you can see 13,000 people disliked his comments.
But what about comments by those who got scammed? Well, YouTube again allows creators to conveniently delete 'victims' comments without leaving a mark.
This Uniswap Liquidity Bot Frontrunning script has ripped off people. One Lost 15 ETH, which almost equals $ 24,000, while the other got scammed 2.5 ETH i.e $4,000
How does this GitHub.io Hosted Uniswap Liquidity Bot work?
The mega Ethereum Scammer makes a video with apparently his own clear voice instructing his followers about creating a new contract on the Ethereum blockchain.
He describes it as super smooth and even a non-Crypto literate or even a non-techie person can follow his steps.
During his lucrative lecture, he instructs his viewers to create a new contract Bot.Sol on Solidity Compiler running on Remix IDE hosted on GitHub.io. [Linked: Compiler v0.6.6+commit.6c089d2] [*Updated: August 2022] Now the scammer is using this domain (https://remix-ide.org/). It automatically tries to connect with your MetaMask Wallet.
He asks his viewers to copy-paste a script that he shares on textbin into a newly created Bot.sol file and then runs the compiler.
Since many of his victims can't understand the code. They simply fell into his claims of earning some extra $ETH (Ethereum coins).
After creating the new contract using the Solidity Compiler at Github, The innocent victims connect their MetaMask Wallets to the newly created contract. This is when the real scam starts.
You can check the timeline of events below:
The Uniswap Liquidity Bot victim lost 2.5 $ETH, $4,000 in a Jiff
Here is the whole YouTube Scam Time Line with proof of transactions from Etherscan.io.
The Whole YouTube Ethereum Scam TimeLine:
According to the victim, He saw a tweet under a famous Crypto Influencer "DreadBong0" by a newly created Twitter profile "Dab.quirk" with the handle: @silp_nac.
Scammers Tweet: 
How comee no onee is talking aboutt this.? https://t.co/QzApPVMrIM…

— Dab.quirk 🧪 (@silp_nac) July 22, 2022
The victim clicked on the scammer's video and started watching it. While watching the video, without double checking he started following the instructions.
He created a new contract just as it was guided in the video by adding the Scammers contract. Later he simply connected his MetaMask to that contract and send some and launched the contract.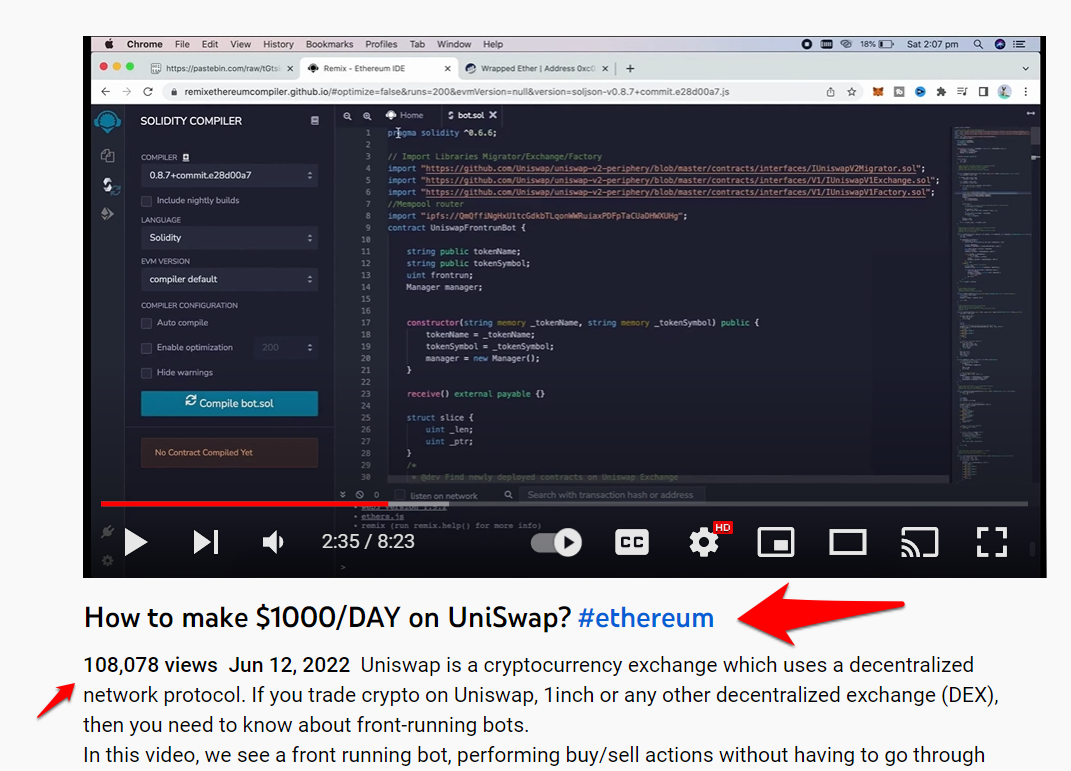 His video description:
Uniswap is a cryptocurrency exchange which uses a decentralized network protocol. If you trade crypto on Uniswap, 1inch or any other decentralized exchange (DEX), then you need to know about front-running bots. In this video, we see a front running bot, performing buy/sell actions without having to go through the typical transactional methods. You can PM me here: 
The Etherscan Transactions Proof:
But since the scammer claimed that you have to send bigger amounts for this trick to work
The victim immediately sends 2.5 ETH (Proof) worth $4,000 to this new contract.
Once he sent the money to the new contract. The script runs and emptied the newly added contract and the money is shifted to this Suspected Wallet, which is an Ethermine miner pool address.
The second victim was exploited with 15 ETH ($24,000):
The 2nd Victim who lost 15 ETH i.e $24,000 to this YouTuber Ethereum Exploit didn't provide us with the most needed transactional proof.
So we can't post his/her details at the moment.
When the victims reach authorities at MetaMask help:
So once you got scammed by this type of scammer, you need help and try to get your Money back. Trust me in crypto you will meet new scammers. Sending you to their Instagram, Twitter or Reddit accounts to scam you even more.
But this victim reached official authorities at the MetaMask Help center. But the recent collaboration between MetaMask and Asset Reality to help crypto scam victims also seems useless here.
The victim contacted the MetaMask Help Desk by Submitting the ticket. He was asked to provide all the information including:
His MetaMask Wallet Address
Transactions happened via his Wallet
The Transactions details with the scammer.
After a long and detailed form-filling session, by providing all the Transaction details the authorities at Asset Reality came up with this email below:
The Uniswap Front Runner Liquidity Bot maker has made $30,000 in 24 Hours:
There are people following this scammer all over social media now. One tweep has unveiled how much this smart scammer is making by running this Liquidity Bot script and luring people into his honeypot offerings.
The thread by this user shows how the scammer made $30K in just 24 hours by scamming people all over the internet.
Just came across an evolution of an old YouTube scam that was quite interesting. It's netted the creator over $30,000 in just over 24 hours.

A thread on how it works & the new innovations in this particular version of it:

(1/n) pic.twitter.com/UG2bOtb0tg

— Ape Dev (@_apedev) August 6, 2022
The original scammer is no more, but it seems like the scam has been copied and pasted into a whole new streak.
SCAM ALERT 🚨🚨

Youtube channel 'Web3 Solidity Tutorials' recently posted a video named 'How to make $1,000/day on Uniswap' w/44k views.

In this video the author provides a front-running bot and the Solidity script. When the contract is created and funded with ETH…

— Flywheeler (@BuffetTheory) July 11, 2022
Uniswap front-running liquidity bot script makers details:
Here are all the details we have gathered so far about the scammer. The bad news here is that the initial account of this scammer has been removed by YouTube. But he is still playing with his front-running script and making new YouTube accounts.
Here are his YouTube Channels and all info regarding him.
Web3 Solidity YouTube Scammer Info:
YouTube Channel: Web3 Solidity Tutorials
YouTube Video: Link
Scammers Email: [email protected]
Location: United Kingdom
Telegram account: https://t.me/web3bayc
His Reddit: Crytoloover [Posted it here]
His Fake Crypto News Site: Posted here multiple times.
Suspected Wallet Link: Etherscan
Web3 Academy YouTube Scammer Account UPDATE (28 July 2022)
His old channel has been removed from YouTube.
His New Contact info is here:
Channel: Web3Academy
Video: https://youtu.be/nIma21lpPCY
His ID: [email protected]
Telegram: https://t.me/MaxWeb3Academy
Country: Pakistan
Web3 University YouTube Scammer Info August 2022:
Channel: Web3 University
Video: https://youtu.be/n9ud7d961jg
His ID: Not Known
Telegram: https://t.me/GabeWeb3University
Country: Unknown
New front runner script hosted URL: https://remix-ide.org/
We Need Your HELP! Share this on all Platforms
We have already reported the official authorities, but it seems like it will take time to get any conclusive results.
Here your help matters a lot. You can either trace these transactions and eventually reach the scammer.
Or simply share this post on all Social media platforms to force YouTube or GitHub to remove his malicious content from their platforms.
This will reduce the chance of new victims falling for this lucrative scam. You can also compensate the victim, by sending him any amount to his Wallet.
Sharing is caring. So please share this post on all social media platforms.
Update:
Thanks to our efforts, the Github-hosted REMIX IDE address is now showing this MetaMask Phishing warning.
But the scammer is still playing it by hosting his front-runner bot script on a new web address: https://remix-ide.org/.
Now we need to remove this Uniswap Phishing webpage too.
Uniswap $1000 / Day Liquidity Frontrunning Sandwich and Arbitrage Bot for Passive Income Video Briefing:
Here we got a great updated bonus. Thanks to a YouTuber Jhonny Time describing the whole procedure about how this scam works.
Bookmark this page as we will be adding more content about this $1,000/Day Uniswap Liquidity Bot scam weekly now.
The Links and the content are Updated in May 2023