Download and install NC Test Chrome App for Android or iOS devices. The NC Test apk or the NC Test ipa from the app store is the app by the North Carolina Educational Web-based service. The app helps in taking place of all the pre-test and post-test activities in one place.
Previously the NCTest app was only available for the Google Chrome browser. Since the NC Test Chrome Extension was the only possible way to download the required forms. Now we have the NC test Apps available for Android and iPhone devices too.
Download NC Test Chrome App Extension for Google Chrome and Android:
With this Google Chrome extension. You can easily connect with NC Test Extension followed for Google Chrome Users.
NC Test Apk info for Android:
| | |
| --- | --- |
| App Name | NC Test-Chrome-App.Apk |
| File Size | 13.1 MB |
| Latest Version | 1.0.0 |
| Operating System | Android 5.0 and Above |
| Developer |  NC Test Developers |
| Updated On | December 2022 |

NC Test App main objectives:
LEA TC/TA (Local Education Agency Test Coordinator/Testing
Assistant): Users linked to an LEA with this role can perform the
following actions for any school within the LEA:
login to NCTest and get students to the start page of an online test
approve or deny link requests for any school within the LEA
remove linked users from LEA and/or schools
use CREATE STUDENT under Manage Students
use the enrollment picker to manually enroll/unenroll students throughout the LEA into an online test
enter/edit SIQs, Accommodations Provided, Special Codes for
student tests
enter/edit Test Window Scheduler
view student test start and end date and time
use Reset, Resume, and Finalize functions
assign NCEXTEND1 assessors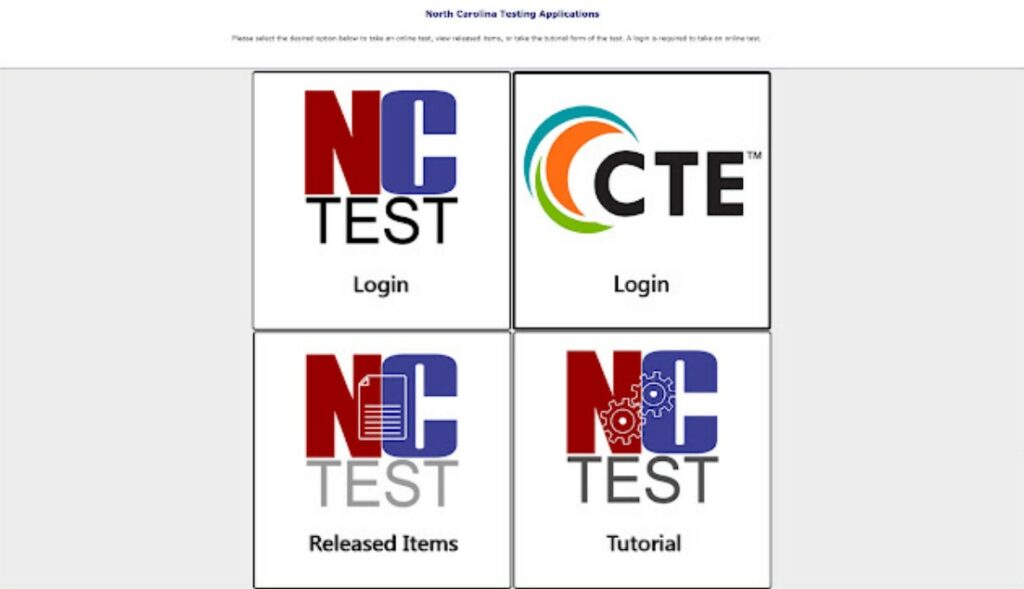 NC Test App Technical Requirements 2022-23:
NCTest content is NOT allowed to be cached via the web proxy, content delivery networks, local client, or other cache technologies longer than the period needed to deliver the test to the student.
A Chrome App, a native tablet app, and a Secure Browser are available for online assessment – See NCTest Support for details and requirements for each platform supported.
1024 x 768 Screen resolution for best performance.  Lower vertical resolutions for some devices are possible but will increase the amount of scrolling and other user interface adjustments (changing the size of screen display areas) to fully access items.
Screen size must be 9.5″ or larger
See NCTest Support for operating systems and devices supported
LEAs/schools using iPads must use AAC, Guided Access, or a Mobile Device Management system in order to restrict the iPad to only be able to run the NC test Chrome app.  The current version of the NCTest iPad app will automatically use AAC if it is supported on your device.
LEAs/schools must allow all web traffic (including JavaScript, mp3, Ogg, mp4 files, images, etc.) from center.ncsu.edu and data.ncsu.edu (standard and secure).
NCTest Chrome App maximizes to full screen and does not use pop-up windows so there is no requirement to allow pop-up windows.
NCTest must retain focus during test administrations so screen savers, sleep mode, other program notification pop-ups, or other tools that may interrupt the current application running (NCTest) must be disabled.
Test takers must not move to other system windows.
Other Apps, add-ons, and system tools must be disabled prior to beginning a secure test administration.
Classroom Remote Management software that allows computer lab managers/teachers or tech staff to remotely control a student desktop is NOT to be used during secure test administrations.
Gesture controls must be disabled on computers used to test, except those using the Secure Browser as this feature can cause NCTest to lose focus and students would encounter the unexpected exit dialog.
Beta versions of operating systems for desktops and tablets and the Chrome browser are not approved for use for secure test administrations.
Screen capture capabilities must be disabled.  Please reference the NC Testing Students with Disabilities Manual for details concerning appropriate screen-sharing scenarios.
DMV Practice Test NC:
With this newly modified chrome extension of the NC Test, You can easily apply for the DMV Practice Test inside your Google Chrome browser. The updated version also supports the Android version of the app.
NC Permit Test:
The new extension has the North Carolina learners permit knowledge most asked 25 questions. This will help you in preparing for the NC Test using your phone.
Also Download: 
Download and install NCTest Apk  for Android 2022-23:
Step 1: Download the latest NCTest App Apk by following this guide.
Step 2: Now on your Android device, go to settings > security > allow unknown sources.
Step 3: Now locate the downloaded APK file on your phone and tap it to begin the installation.
Step 4: Proceed with the installation and finish it.
Step 5: All Done. Here is the certified link of the latest apk app from apk mirror.
NCTest App Apk |Chrome Extension|